Nov. 08, 2022
In this article, we will try to show you the difference between them, so then you will be able to easily select which one you need.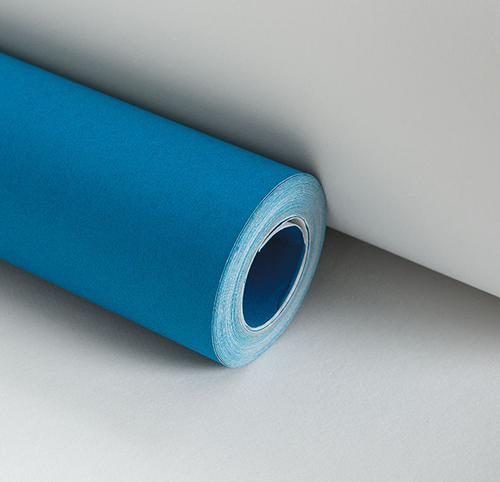 Non-woven Base Paper
Paper base
Paper Based or Paper backed wallpapers are cheaper and more popular then Non-woven once. For the factory, it is cheaper to produce the paper base wallpaper and apply any of the other layers of paper, or vinyl, or textile etc.
But the basic properties of wallpaper on a Paper-based, which include water resistance, strength, and durability, are made up of the characteristics of the materials used on top of that base. Which means there will be a huge difference between Vinyl Wallpaper on paper base and Paper Wallpaper on the paper base. The Paper Wallpaper on a paper base is not recommended for using in the kitchen and bathroom. Due to the changes in temperature and high humidity, the wallpaper will deform and unstuck from the wall. But vinyl coated/acrylic coated paper-based Wallpaper is very good for those rooms.
Let's talk about the disadvantages of the Paper Base. It is harder to hang wallpaper on the paper base since you will need to apply your adhesive directly to the wallpaper and then you will need to wait a certain time for them to "absorb" it. Wet pieces of wallpaper are difficult to accurately attach to each other while standing on the ladder. Also, it is difficult to deal with bubbles which are starting to form under your wallpaper during your work. To do this job really nice and clean you will need to be a professional. With non-woven base wallpaper it is much easier to work, so even beginner will do the job perfectly!
Non-woven base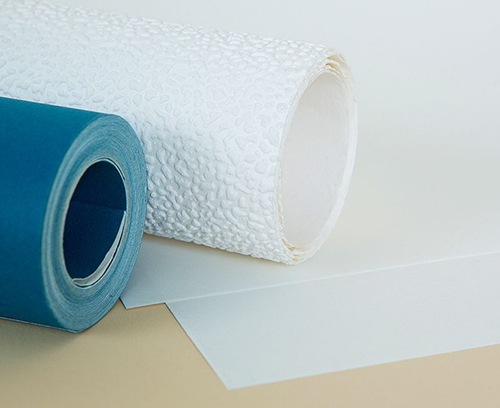 Non-woven Base Paper
The Non-woven base is a non-woven fabric composed of cellulose and sometimes textile fibers bonded by a binder. Hence, they are in fact a complete different level material as they are environment friendly natural items which give them a edge in the current technology. Mostly the Non-woven is coated with vinyl, but in some cases, it can be a textile or other materials. Some people find Non-woven based Wallpaper unsafe for the health, but in reality, the non-woven wallpaper is harmless.
Non-woven main characteristics are breathable, lightweight, flexible and also very easy to install and remove from wall. As non-woven have a breathable edge, the wall beneath the wallpaper is protected from mildew growth. It also have an excellent heat and sound insulation which is applicable to any kind of room.
The best thing about Non-woven Wallpaper is that it is so easy to hang them. Non-woven backed Wallpaper can be applied dry to the wall with pre-applied adhesive directly to the wall. They will keep the excellent shape and will not deform. In addition, the Non-woven based Wallpaper perfectly hide imperfections and cracks in the wall. They are also easy to remove and they will leave your wall smooth and abrasion-free after removing.
The disadvantage of Non-woven based Wallpapers is their higher price.
Work with Tianjinsheng
Non Woven Fabric Wallpaper as Wallpaper Base Paper has become the mainstream of the wallpaper industry, manufacturers of wallpaper will purchase a large amount of Non Woven Wallpaper from us every year, and then they will do secondary processing and sales. Because our products are very cost effective. So many customers from Europe and the United States choose to work with Tianjinsheng for a second year.